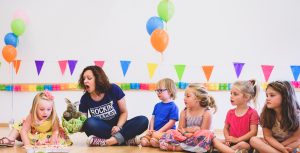 We provide action packed, drama based, quality entertainment for children's parties.
Parents can choose from a variety of different themes to suit their child:
Adventure based parties

Together we go on an adventure with the children, be it sailing the high seas for treasure, flying to an exotic land for a holiday or preparing for a very special birthday and there are always a few surprises along the way!
Story based parties

Our experienced tutors guide the children through the action of the stories, taking on roles of characters and maybe even changing the endings to make their story a unique one. Who knows where the children's imaginations will take them.
Free play based parties

The children are given props, costumes and roles to play in their very own restaurant where they will serve each other as well as some strange visitors! Who know what could happen when a tiger comes to tea!
All sessions include a story and some touches to make it personal to the birthday child. We also include a mixture of drama and traditional party games.
If you have any special requests, let us know.
Contact us to discuss and check availability.